Select Width (horizontal):
* size = mirror + frame
Select Height (vertical):
* size = mirror + frame
Glass Option (beveling):

$

FREE SHIPPING - SHIP IN 8 TO 12 BUSINESS DAYS

Loading... Please Wait...

---

---

Free shipping special ends Thursday, Jun 4th at 11:59 PM.
---
* Note On Frame Finish: due to monitor differences and unique color/contrast/brightness settings on each person screen, the actual color and brightness of the frame finish may vary from what appears online. If you are looking for a specific finish or color, please request a FREE frame sample before buying. All promotions will be honored based on the date the sample request is submitted.
---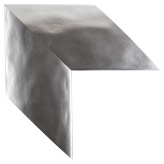 Free Shipping Special
Getting a huge mirror to your place can be a daunting task, even for most shipping company. We are currently offering free shipping on all mirrors for a limited time. Note: Free shipping special ends Thursday, Jun 4th at 11:59 PM. For info about optional White Glove delivery service, please read the F.A.Q.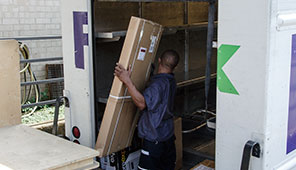 ---
Custom Sized
Get the exact size you need for your unique space. We can build and ship mirrors up to 8.3 feet in length. Yes that's 8.3 ft. (100 inches). MirrorLot is one of a very few company, if not the only company that can offer this type of flexible sizing option for decor mirrors.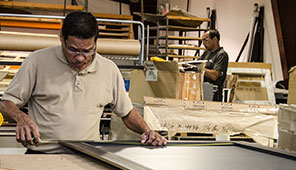 Custom Framed
Every mirror from MirrorLot is custom framed with high quality commercial grade frame. We cut the moulding to the size you ordered, assemble, and join them, everything is done in house to assure the highest quality. Our frames and mirrors are built and designed to last a life time.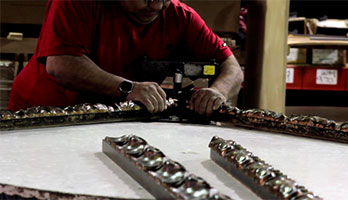 ---
Hardware Included
Whether you want to lean or hang the mirror, we've got you covered. All MirrorLot mirrors come with hanging Z-bars & mending plate to secure a leaner mirror against the wall or hang the mirror on the wall. Watch the step by step instructional videos on how to hang mirrors and lean mirrors in the videos & photos section.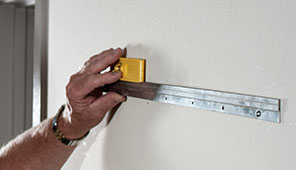 For Home Decor & Businesses
Whether you just need one mirror for your home or 250 mirrors in the same frame styles, but different sizes for an interior design project, we are the right vendor to talk to. Interior designers, salon owners, and entrepreneurs have been trusting us with their projects for over 30 years. Our works can be found all over the country in top hotels, casinos, resorts, salons, restaurants, boutique stores, and more!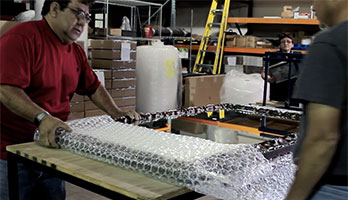 ---
Mirror Manufacture & Retailer
MirrorLot is one of a very few companies that can build and ship custom sizing and custom framing for decor mirrors. It's never been easier to design your own custom framed mirror with the exact size and style that you want and have it delivered right to your door step.
Buying From The Source
Every mirror that we sell is done in house from assembling, to framing, to packaging, even the box that we used to ship the mirrors is designed and built by us. We are the manufacture and retailer for all the MirrorLot mirrors. Buying directly from the source allows you to have true quality at the best price.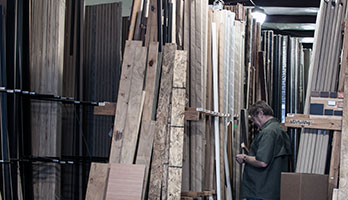 When will I receive my order?
It takes us about 8 to 12 business days (not including weekends and holidays) to build and frame your mirror. Shipping takes another 5 to 7 business days (not including weekends and holidays). Most mirror orders should be received after 14 to 17 business days (not including weekends and holidays). If you place the order today, Jun 4th, you should receive it around Jun 26th. If you are ordering more than 10 mirrors, please contact us.
Is there a tracking number for my package?
Yes, when your order is shipped, we will send you an email with the tracking number to track the status of your package.
What is included in the optional White Glove delivery service?
We can upgrade your order with White Glove delivery service which includes: bringing the package inside your home/office (no stairs), unpacking and taking away all packing materials. Please contact us before or after making the purchase for more details about this upgrade. For residential area, the shipping company will call you to schedule an appointment for delivery. Please note there is an extra charge if you need to have the White Glove delivery service on the weekends. Installation or hanging of the mirror is NOT included with the White Glove delivery service.
When selecting the size of a mirror, is it the inside mirror glass size or the outside of the frame?
The dimensions you are selecting are the outer dimensions of the frame.
Are the frame samples free?
Yes. There is no charge for frame samples.
How many samples can I request?
You can request up to 4 frame samples.
When will I receive my frame samples?
Frame samples are usually shipped in 1 business day. The sample package should arrive in 5 to 7 business days depending on your location.
Will you honor the free shipping special or other promotions?
Yes, we will honor any promotion up to 30 days from the date you submitted the sample request form.
Is there a tracking number for my frame sample?
Yes, an email with the FedEx tracking number will be sent to the email address you provided when your samples are shipped.
Can I buy just the mirror, without the frame?
We only sell framed mirrors.
How do I open the package after receiving it?
Please watch the video below:

How do I hang a large mirror to the wall?
Please watch the video below:

How do I secure a leaning mirror to the wall?
Please watch the video below:

How much does a framed mirror weigh?
Weight on the framed mirror will be 5 – 6 lbs per sq ft including packaging. Example: a 30 X 40 framed mirror will be 30 X 40 / 144 = 8.33 X 5.5 = 46 lbs. For any size bigger than 30x30, we recommend having a minimum of two people handling it.
How thick is your mirror and how wide is the bevel on the mirror?
The mirror is 3/16 inch thick. The bevel is cut at 1 inch and 1/4. After we put the frame around it about 1 inch of the bevel is shown.
How big is the box used to ship the mirror?
The carton for the mirrors are 8 inches larger each way from the framed mirror size. The depth of all the carton is 8 inches. Example: a 30 X 40 framed mirror carton will be 38 X 48 X 8.
How to clean my framed mirror?
For cleaning or dusting a frame, ONLY use a clean dry cloth. We DO NOT recommend any cleaning solution to be used on the moulding. The mirror glass part can be cleaned with any glass cleaner on the market and a clean cloth or paper towel.
I plan to buy a mirror for my bathroom, will the humidity in the bathroom damage a mirror or picture frame?
No, the frames we offer are of the highest quality. Every frame finish is sealed with multiple coats of sealant to withstand normal usage in a bathroom.
What is your payment method?
We accept all major credit cards and debit cards: Visa, MasterCard, American Express, JCB, Discover, and Diners Club.
What is your return and exchange policy?
MirrorLot takes great pride in the quality and craftsmanship of our products. Attention to detail in design, materials and packaging is always at the forefront. Every item is carefully inspected before leaving our facility. Please inspect the product upon receipt or within 24 hours upon receipt. In the event that damage occurs in transit, please contact us within 2 days of delivery. We cannot file a damage claim if you notified us after 2 days of delivery.
Upon return, all item(s) will be inspected. Appropriate exchanges, credits and refunds will be issued for the purchase price of the item(s). Shipping and delivery charges are nonrefundable, and return shipping or pickup fees (from $149 to $249) may apply. If you received upgraded service delivery or free shipping special, the actual cost of shipping will be deducted. Returned item(s) need to be repacked in its original packaging including interior packing. In addition, a usage or restocking fee of 25% also may apply. Orders eligible for cancellation will be refunded in the original form of tender.